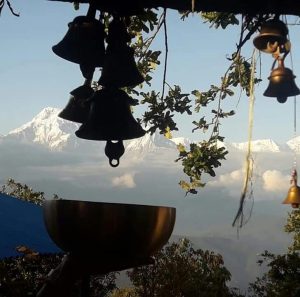 YogaSol has teamed up with "Nepali Singing Bowls" in Nepal to bring you an amazing opportunity to travel to Nepal, The Heart of the Himalaya.
Starting off in
Kathmandu
where we will visit
Sacred sights
and Temples of Both
Shiva
and
Buddha
. A place where worship and Yoga blend into a kaleidoscope of colour. The air heavy with Incense from prayer and devotion.
From the heady spiritual highs of Kathmandu we will embark a tourist bus through the Hills to
Pokhara
a Beautiful lakeside town of peace and serenity.
Here we will take a rowboat and glide across this tranquil lake for our first mini trek to
The world Peace pagoda
. You may choose to wait at the bottom of the hill and rest in the restaurant with beautiful views, or row to the Temple island and soak up the atmosphere.
The following day will be the festival
Diwali
! The festival of lights, where we can join in the festivities of Dancing, Rangoli Patterns, and Lamp lighting!
A festival to welcome the goddess to shine her light upon us for the upcoming year!
After our festivities we will adorn our walking shoes and start our
7 day trek
.
Day 1 Drive to Kimche then Walk to
Tadapani
Day 2 5-6 Hour Trek then stay overnight in Guest house. Option of Asana practice before Dinner and Philosophy Sat Sang after.
Day 3 Early morning rise for a 15 min walk to the lookout tower for magnificent views of
Annapurna and Dhaulagiri Range
, then Breakfast and set off for a 5-6 hour Trek.
Day 4 Walk to
Lake Khayor
with packed lunch, spend time here for
Bowl session and Meditation
. After walk back to
Khopra Danda
7-8 hours in total
Day 5 Trek down 4 hours to Padwar. Time for
Yin style Asana and Meditation
Day 6 Day at Hot Springs lay back and let the heat and sound of the bowls melt your muscles and mind.
Day 7 Drive back to Pokhara
Returning to Pokhara where you can book into one of many spas for
massage
and Ayurvedic treatments.
We will rest here a whole day before returning back to Kathmandu where we have another full day to Rest and Shop!
The following day. (Day 18) we will be heading to visit the
tallest statue of Shiva in the world
, and a wonderful local restaurant for traditional Dahl Bhat Every day will include
Guided meditation
practice as well as
Asana and or Pranayama
. There will be time along the way for
massage and Bowl healing treatments
as well as free time for
silence and reflection
.
You will have full support form both Noah and Claire if any assistance is needed during your stay.Total cost
$3000
each (this may fluctuate pending on flights)
Cost includes:
Flights and transfers, Visa fees. All transport in Kathmandu and Pokhara, All accommodation. All Yoga, Meditation, Massage and Bowl Treatments performed by your guides and hosts.
All entrance fees to Temples are covered.A Deposit of $1500 to be made by May 1st 2019
The remainder due by September 20th 2019
Boarding your flight may be refused if your passport has less than six months of validity left. Please ensure your passport is valid for travel before committing to paying your deposit.
Refund policy
Deposit will cover flights and taxes.
Once Flights have been purchased, and secured there will be no Refund on Deposit
If paid in full, you will be refunded all minus Flights Taxes and Trekking costs…
Cost for children $2000 (this may fluctuate pending on flight fluctuations)
Cost include:
Flight transfers and Visa Fees. All transport and Temple entrance fees.
There is no charge for Trekking, Yoga, Meditation, or Massage for children.
If your child will need help walking on the trek we can help with arrangements for this but it is an extra cost.
What is not included in the costs
-Travel Insurance
-Food and Drink
-Shopping and any out of schedule activities you may choose to do including Zip Lining, paragliding etc
-Any extra treatments or classes in the spas or Yoga Studios in Kathmandu or Pokhara must be paid for by yourself.
-The Trek and Guides are included but you may choose to Tip our guides at your discretion.
-Any extra meditation or bowl healings performed by our guides will also need to be paid for by arrangement with them directly.
If you wish to make any extra donations to the orphanage that Yogasol has a relationship with we are happy to accept these during our visit also.
Limited to 15 People only. Deposit must be made to secure space.
21/10/19 – 08/11/19 Including Diwali  **This trip is now "SOLD OUT"**
19/02/20 – 11/03/20 Including Shivaratri and Holi
11/11/20 – 29/11/20 Including Diwali 
Please contact us for a more detailed Itinerary and break down of costs.
p: 07 3851 0860
m: 0406 692 891
e: yogaandmassage@gmail.com
or PM us on Facebook.