Claire Tierney- Yoga Teacher, Myo/ Remedial Massage Therapist, Yoga Mentor and Teacher Trainer
Claire has a passion for Healthy Movement. She enjoys the perfect Union of Manual Therapy & Yoga as a therapeutic means to regain fluid effortless movement within the body,\ as well as a deeper connection to the mind, combining this movement and Mindfulness with  knowledge of Breath to create a balanced wellness plan for each individual person.  Her continued studies have gained her a certification in Hypnotherapy, and The Neuroscience of Mindfulness based practices, Enabling the theraputic means of Yoga to reach out of the physical realms and help on a more psychological level also. Claire Continues to study Yogic Philosophy with Embodied Philosophy and probably will forever as Yoga is such a topic to completely absorb you for many lifetimes. Claire is also a guide and Lead host for Yogasol"s Nepali Trek and Retreats.
Claire is available for personal appointments of Yoga Therapy, as well as Classes in Asana, Meditation and Philosophy. She is the lead Teacher in Yoga Sol's Teacher Training and Postgraduate Massage training. She is Also available for Massage or Myo appointments.
Claire has had experience working with the English Premiership, The NRL and Queensland Netball. 
Jo Moloney-Yoga Teacher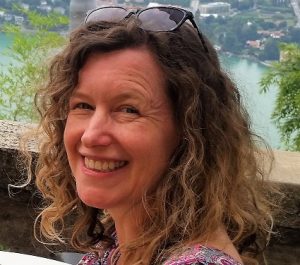 Attending a yoga class in a local hall proved surprisingly life changing for Jo. That morning's practice challenged her flexibility, balance and strength. Downward Dog felt anything but restful! However, post-class she felt an energy that was new (and which lingered), so went back for more, more and more. The result was a body and mind makeover: she became calmer, happier and her attitude became more positive.
Yoga gave her tools to manage feelings of anxiety. Jo experienced a greater sense of clarity and began to pause before reacting, taking time to consider the best response (if any). She met and connected with like-minded people and has benefited richly from their friendship. Perhaps the greatest gift yoga brought to the surface was the courage that existed deep within her.
Jo enjoys continuous learning and education in the field of yoga teaching and says:
"With yoga in my life, I'll never stop learning."
It's true! In March 2019 Jo was fortunate to attend and complete the Blissology Yoga Advanced Alignment and Adjustment 50 hour module with Eoin Finn.
In 2017 Jo completed Level 2 150 hour Post Graduate Yoga Teacher Training with One Family Yoga and Fitness. Modules studied included: Restorative Yoga; Advanced Adjusting and Modifications Using Props; and Yoga Nidra. This higher level study is a great complement to Jo's Level 1 Yoga Teacher qualification obtained through Being Yoga, where she studied Vinyasa Yoga Asana, Pranayama and Meditation (including Yoga Nidra).
Jo's missionis to help others experience the joy and benefits of yoga in a supportive, fun and friendly atmosphere, so they too can craft a life they love, benefiting not only themselves but all beings.Classes vary week by week to keep things interesting and Jo offers variations for poses so everyone can practise safely and in the right way for their body.
 Jillian Warren – Yoga Teacher
Jillian is a Level 2 Teacher. Jillian's Yoga journey began over 20 years ago and it was those early experiences that ignited a love of Yoga in her. The discovery of Yoga in her world was life-changing; it brought a sense of calm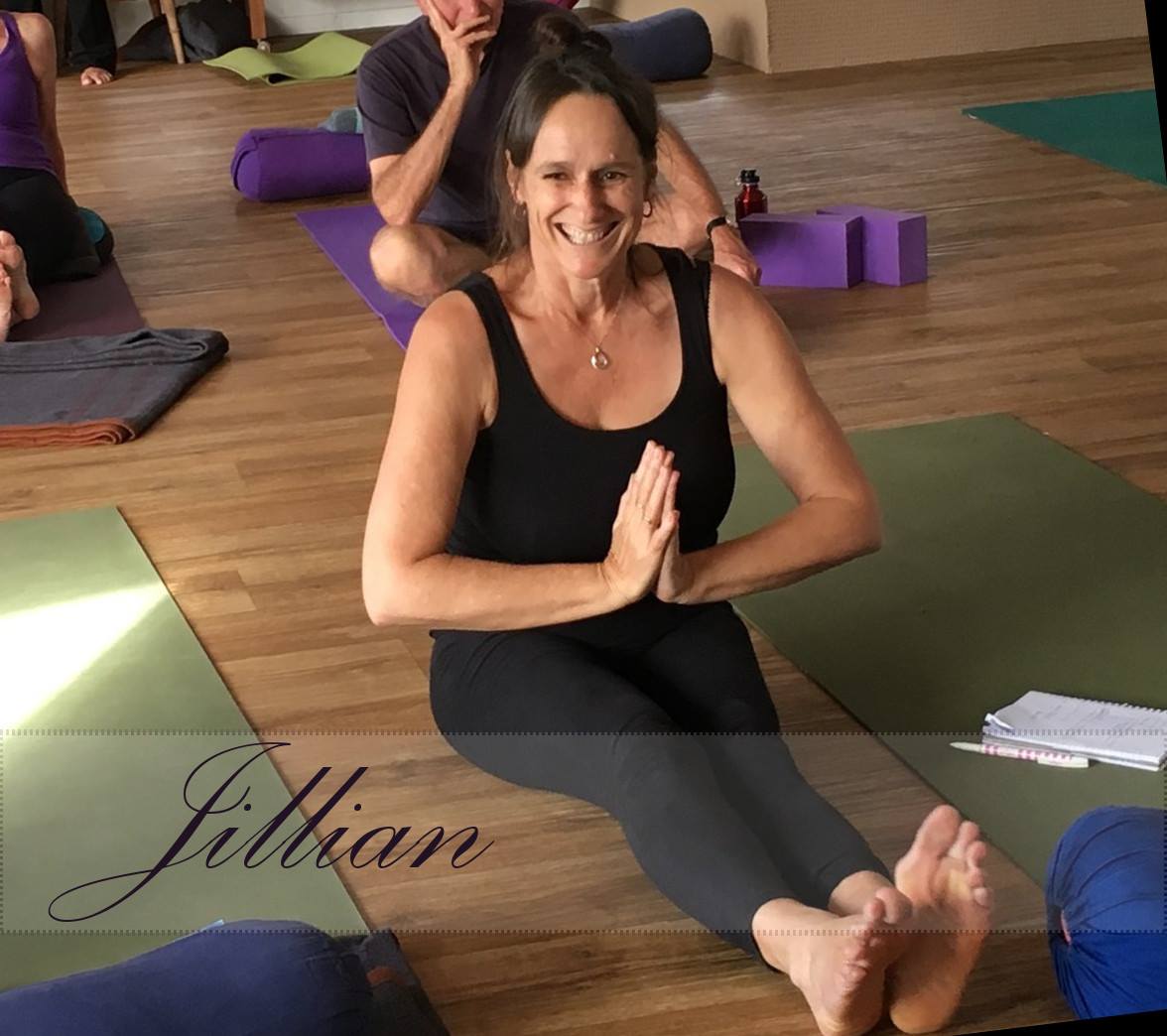 in an often chaotic life, an opportunity to connect with her spiritual self, physical well-being and it nurtured the feeling of hope.
Regular attendance at Yoga classes over the years eventually led to Jill seeking a deeper experience of Yoga and in 2014 she undertook teacher training, studying in the Hatha style of Yoga. Jillian feels blessed and privileged to have had the opportunity to share in the traditions, wisdom and discipline of this ancient practice.
Jillian has been working in the community sector for many years and is no stranger to people's struggles, challenges and vulnerabilities in an uncertain world. It is this background that sees her teaching from the heart and with a desire to offer the tools for change.
The practice of Yoga has been so influential in Jillian's life that she wants to share this experience with others and to make Yoga accessible for everyone. She recognises that each person is unique and individual. Regardless of age, experience, current abilities, mobility or other physical challenges, mental health issues or where you are in terms of your personal Yoga journey, Jill invites you to join her to explore what Yoga can bring to your life.
Ellen Cooper  – Relaxation Massage Therapist & Personal Trainer.
Ellen has been in Australia since 2014, emigrating from the uk.  She has worked as a personal trainer and swimming teacher and coach since 2011.  She did her massage
studies in 2015 and since qualifying has been working in Samford at Snap fitness running a small clinic.  Ellen is joining us here at Yoga sol for rehab based personal training and Massage Therapy.
"I have worked with a number of my personal training clients on strength and conditioning, correcting posture and working with injuries such as bursitis and impingement of hip and shoulders,  scoliosis and stress related conditions.  I found the combination of personal training and massage work incredibly well together, and feel happy I can offer my clients a great level if service".
Ellen offers a firm massage directed at connective tissue, sport related massage and relaxation massage.
Stephanie Gough – Remedial Massage Therapist & Hatha Yoga Teacher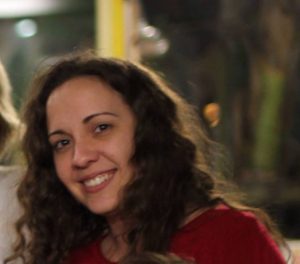 After personally experiencing relief both physically and mentally from massage, Stephanie decided to pursue a career in Remedial Massage, to be able to pass that gift onto others.
After completing her Diploma of Remedial Massage (Australiasian College of Natural Therapies), Stephanie decided to further her training in movement by undertaking her 400hr Level 1 Hatha Yoga Teacher Training through Yoga Sol Academy.
As Stephanie is a member of Massage & Myotherapy Australia, Private Health Fund rebates are available on Remedial Massage Treatments with her.
Stephanie is trained in:
Swedish Massage
Pregnancy Massage
Trigger Point Therapy
Deep Tissue Massage Techniques
Sports Massage
Lymphatic Drainage
Muscle Energy Technique & Proprioceptive Neuromuscular Facilitation
Hot Stone Massage
Exercise Prescription
Indian Head Massage (Champissage)
Lana Jackson  – Remedial Massage Therapist, Reiki & Pellowah Energy Practitioner 
I am very excited to be a part of the wonderful talented and knowledgeable Team at yoga sol.
What I'm really interested in and where my true calling is , is nurture and creating a very individual treatment for each client based on where their bodies need the most support drawing from the different modalities.
I have been massaging for 25 years am trained in the following:
Swedish massage
Lymphatic drainage
Chinese massage
Horrsmann technique
Deep tissue massage
Reiki
Pallowah healing
Relaxation massage
The beautiful Hawaiian Lomilomi massage
My hope is that with each massage I have the privilege of giving will take the client to go deep into relaxation.
This is my goal during treatment because it's in this deeply held space that real healing can occur, the cells of the deeply relaxed body take on the healing body work in a profound way. When the body feels safe , nurtured and held is when the magic happens.
I feel so blessed and to be able to offer my Gifts to each client, and I do so with gratitude and reverence and Deep respect
May the joy of life flow through all aspects of our being
Su Tindall – TaiChi, QiGong, ChiBall Instructor & Remedial Massage Therapist 
Su Tindall is passionate about helping others identify and reverse challenges to their overall wellness by empathetically "Building better bodies from the inside out" 
Having lived with chronic pain from multiple injuries and postural imbalances, and several health issues as the legacy of high stress and trauma, Su loves to empathetically explore Mindful Movement and mindful stillness. She is a playful teacher, encouraging others to find joy in moving safely and fluidly.
Su offers a variety of movement classes and workshops(Qigong, ChiBall, Fascial Fitness, Healing through Posture etc) of differing levels and abilities, with her main focus being those struggling to return to exercise or living in chronic pain, fatigue or stress situations.
A constant student for the last 20 years, Su is a highly experienced, fully qualified, registered Remedial Massage Therapist, Certified Rolfer® (Structural Integrator), CranioSacral Therapist, Rolf® Movement Practitioner, ChiBall™ Method Instructor, and Facial Fitness trainer among other qualifications. Su continues to study and enjoy experiences such as TaiChi QiGong, Continuum Movement, Feldenkrais, creative dance, Zen Thai Shiatsu, voice and music, both as therapies and as creative outlet.
Kristi Manger – Hatha Yoga Teacher
After first encountering yoga while travelling in Thailand 13 years ago, Kristi has watched as the seed that was planted then has slowly grown over the years. Yoga has since been a part of her life, more so than ever since having children; being able to create a sacred space to reconnect with herself and find peace and calm amidst the chaos; stepping onto her mat has become a ritual of "coming home", the one place she feels most centered, alive and living her purpose.
Having a love for remedial therapies, Kristi began studying Naturopathy in 2013, however just before having her first child decided to pause her studies. After her second son was born she began feeling the pull to return to her studies sand through much soul searching her path leads her to yoga.
She has recently completed her 400hr Level 1 Hatha Yoga Teacher Training through Yoga Sol Academy and is excited to further her learning and education particularly in the field of pre and post-natal yoga.
Camille Jeboult – Iyengar Yoga Teacher
Camille first began in movement arts in 1989 with the Korean martial art of Hapkido at age 19, training intensively for 10 years to reach 2nd Dan level. She taught Hapkido in Brisbane from 1995. She then shifted focus from the strong martial arts style towards Chi Gung, Tibetan Buddhist and Iyengar Yoga practices.
She trained intensively with Senior Iyengar Instructor Peter Scott from 2002 in Brisbane, Noosa and Melbourne, and has hosted workshops with him and other teachers on several occasions.
Camille values self-enquiry and ongoing learning, participating regularly in workshops with Senior Iyengar teachers including AbhijataIyengar, Caroline Coggins and Sue Everett.
With 25 years of teaching experience, Camille imbues her classes with professionalism and warm-heartedness. She encourages students to work within their present capacity only challenging themselves into stronger work once the foundations are stable. Students are entreated to move deeply inward to find alignment that includes physical, mental and emotional balance, learning to connect with- and direct the energies within.
Kate regularly attends workshops on various different aspects of yoga with various different teachers. There is always more to learn. Extra study includes, Ayurveda, meditation, common pathologies, alignments and adjustments and anatomy and physiology Kate continues to consistently work on herself, with regular mentoring and help across different healing modalities, so you can feel comforted in that everything she teaches comes from the heart, and personal experience, not from a textbook.
 Lillie Tran – Sound Meditation Teacher & Therapist
Lillie's journey started in 2017 when she travelled the world in order to heal herself after losing a loved one. During her journey of self-discovery, she discovered the healing power of sound and meditation. She is a certified Sound Healing Therapist and Heart Resonance Practitioner.
She continues to practice and study various forms of meditation such as mantra, mindfulness and movement meditation in hoping to share the most suitable one for each individual.
She is passionate about holding sacred space and guiding you through meditation with unique soundscapes so you can connect into your heart space for self-love, self-healing and self-discovery.
She facilitate an hour of cosmic soundscape consisting of Nepalese Singing Bowls, Crystal Alchemy Bowls and Japanese Chimes. All you have to do is lie there and allow the healing sounds and vibrations to wash over you – listening with every cell in your body.
Feel the 'power of sound' which can relax overstimulated nerves, ease weary muscles and drop your busy mind into stillness. When the mind becomes restful, it brings forth feelings of relaxation and mental expansion. As the mind slows down and quietens, there is room for wonderful inner states of greater awareness, clarity and calmness.