Nepali Trek & Retreat including Diwali (2022)
We're taking expressions of interest!!
Proposed dates 17th October – 4th November 2022
Please note our 2022 Trek will only be going ahead if we feel the global environment is safe for travellers. We will update our website as we move into the start of 2022 with a full updated itinerary and more information with costs as these may have changed from the pandemics effect on the global economy. 
Yoga Sols 2022 Nepali Trek and Retreat will be lead by Claire Tierney & local Ajay Chetrri. Claire has been travelling Nepal regularly for the last 4 years, and considers it a home away from home. She has made many friends throughout Nepal which will bring a unique experience to the retreat. Claire brings over 20 years experience as a yoga teacher, and massage therapist while Ajay's local knowledge and skill as a Sound and Meditation Leader will bring you the authentic retreat experience you're looking for.  Our friendly local guides along our trek are Sudashan and Sattya who both posses a world of knowledge and experience making our treks exciting and fun!
Full Itinerary
 Day 1 (1st Nov)
Fights leaving Brisbane are usually around 830 am. Usually arrive in Kathmandu around 10.30pm same day. By the time we get to the Hotel it's late around 1130 or even midnight.
We will arrange pick up at Kathmandu airport. Please arrive no later than 2nd
We check in and sleep. You may wake up early as they are 4 hours behind us but a good time to just laze around after a 16hr flight. Restaurant with room service available after 7.30am.
We will stay in Kathmandu for 4 days
Day 2 (2nd Nov)
We rest and explore Thamel where we are staying with free time.
Thamel has shops galore. A place where worship and Yoga blend into a kaleidoscope of colour. The air heavy with Incense from prayer and devotion. You may choose to get a massage, a tattoo, some art, enjoy a dance, eat your heart out, or just enjoy a wine in the garden of dreams.
Day 3 (3rd Nov) 
We head to Pashupatinath Shiva Temple where we see the circle of life through conception of the Karma Sutra on the walls, take photos with Sodus and watch the dead be washed smoked and wrapped then placed on the pyre.
Day 4 (4th Nov)
Boudanath Stupa, which is the largest Buddhist Stupa in the world. Both of these temples are about 20 mins by bus so we will leave after Yoga and Breakfast both days.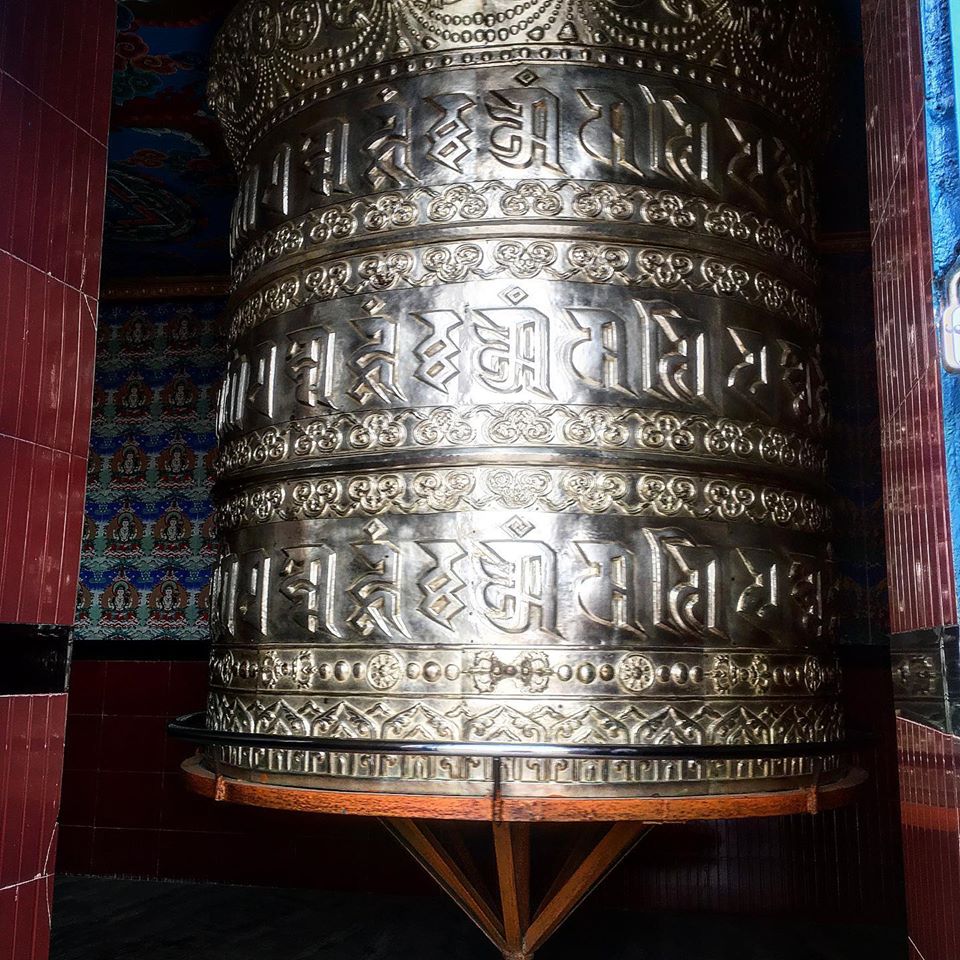 Day 5 (5th Nov)
A 2-3 hour bus drive to the tallest statue of Shiva in the world. We will have dinner at a local restaurant and be home in time for resting up before Hoping on a Bus for Pokhara.
Day 6 (6th Nov) 
From the heady spiritual highs of Kathmandu we will embark a tourist bus through the Hills to Pokhara a Beautiful lakeside town of peace and serenity. The Bus ride to Pokhara takes 8 hours so a long day but it is a nice way to see some green after being in Kathmandu valley for a while.
We get to Lakeside Pokhara about 5 or 6 pm. Taxi to the Hotel and rest or hit the street for a nice dinner and sunset walk along the lakeside
Day 7 (7th Nov)
Here we will take a rowboat and glide across this tranquil lake for our first mini trek to The World Peace Pagoda. About a 2 hour trek to the top a Buddhist peace garden with a beautiful view of the lake.
A chance to meet your guides, and get advice on packs. It will be during this short trek our guides will assess our physical abilities, and give us advice on how we can each proceed safely on our 7 day trek.
Sound Bowl meditation will take place at the top.
You may choose to wait at the bottom of the hill and rest in the restaurant with beautiful views, or row to the Temple Island and soak up the atmosphere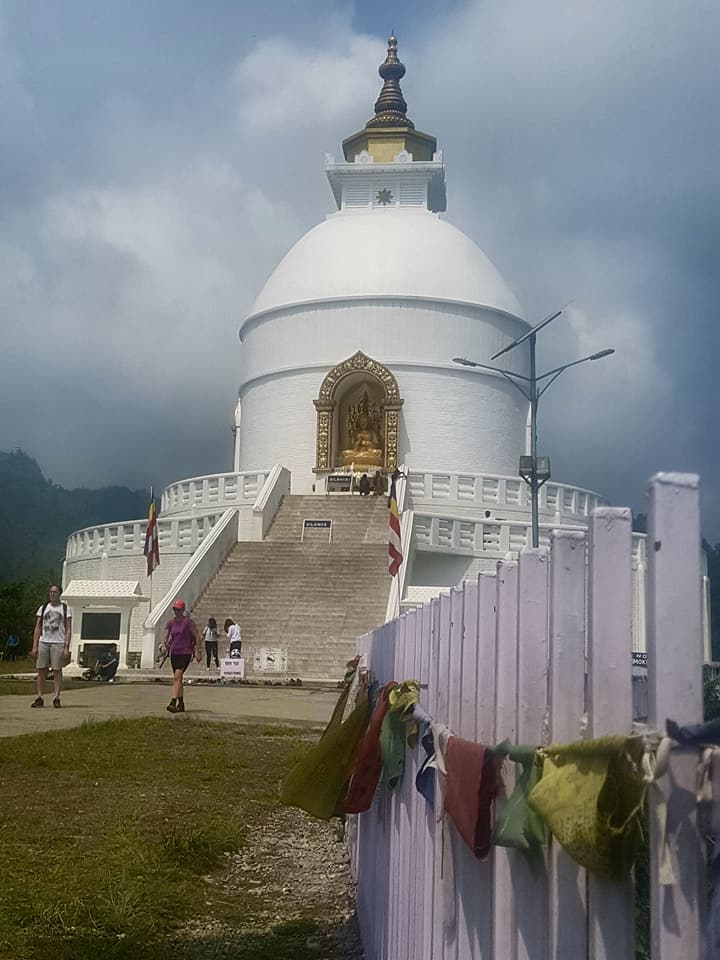 Day  8 (8th Nov)
7 day trek to Khopra begins:  Our trekking schedule is subject to change without prior notice due to weather conditions and safety regulations.
Drive to Kimche then Walk to Gandruk
Day 9 (9th Nov)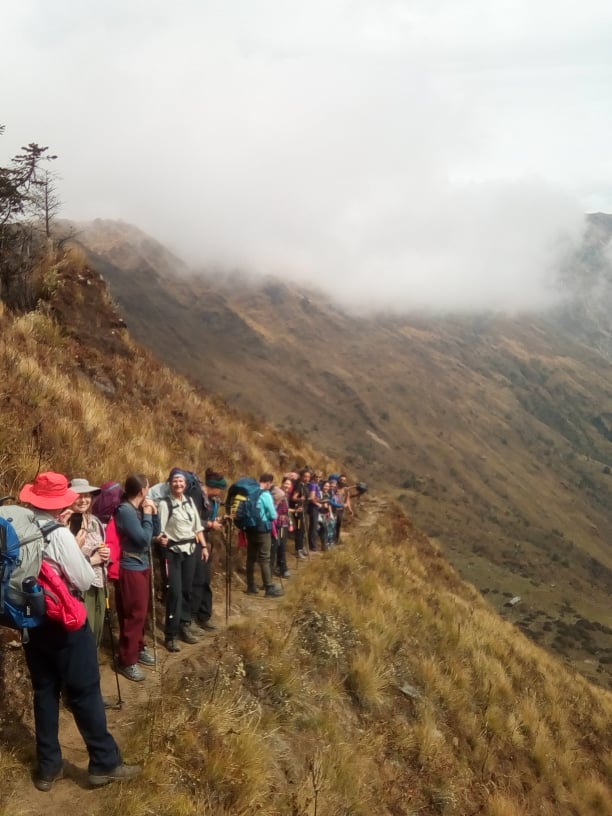 Day 10 (10th)
5-6 Hour Trek then stay overnight in Dobato Guest house. Option of Asana practice before Dinner and Philosophy Sat Sang after.
Day 11 (11th Nov) 
Early morning rise for a 15 min walk to the lookout tower for magnificent views of Annapurna and Dhaulagiri Range, then Breakfast and set off for a 5-6 hour Trek.
Day 12 (12th Nov) 
Walk to Khorpa Danda. Some may choose to stay at Khorpa Danda while others may wish to take the extra day to Kayer Lake. This walk will take you up to 4505 meters to the scared lake with packed lunch; spend time here for Bowl session and Meditation.
After we will walk back to Khopra Danda 7-8 hours in total (this day is optional). If you decided to stay at the Tea House this day will be a time to indulge in Meditation and Asana practice.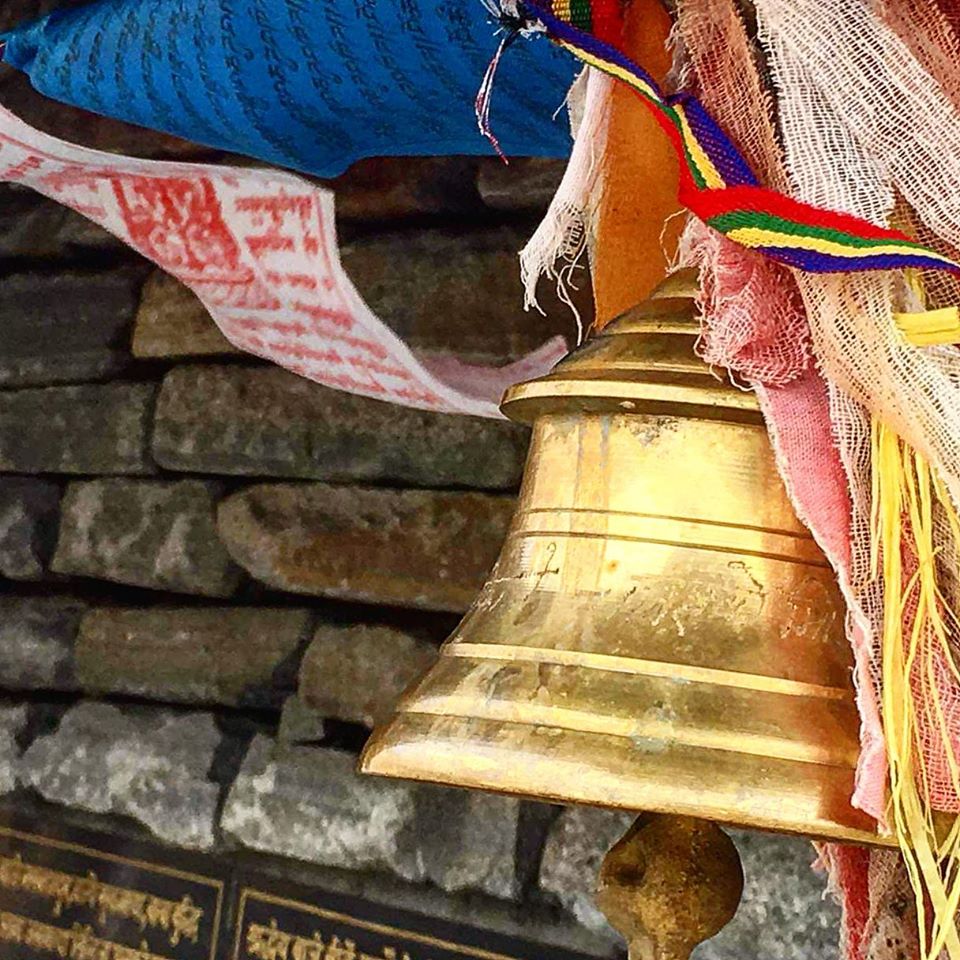 Day 13 (13th Nov)  
Trek down 4 hours to Padwar. Time for Yin style Asana and Meditation
Day 14 (14th Nov)
Day at Hot Springs
Sooth your aching muscles in the natural Hot springs in Tatopani Entrance to the springs is around 200nrp
Day 15 (15th Nov)
Drive back to Pokhara
This is the day Pokhara comes to live with the festival Diwali! The festival of lights, where we can join in the festivities of Dancing, Rangoli Patterns, and Lamp lighting! A festival to welcome the goddess to shine her light upon us for the upcoming year!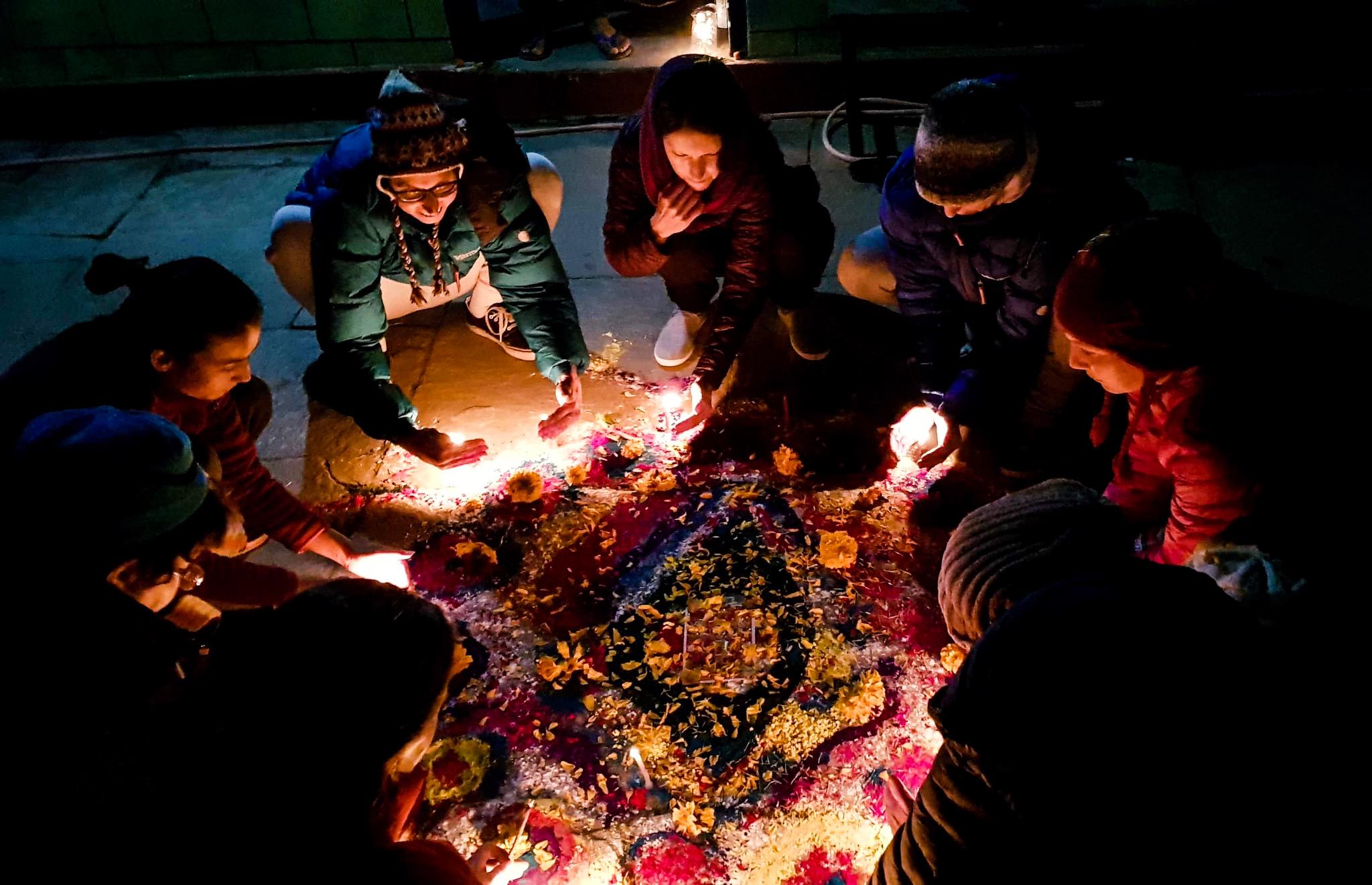 Day 16 (16th Nov)
On return to Pokhara you can book into one of many spas for massage and Ayurvedic treatments.
Try something adventures like Paragliding, Ziplining or motorbike tours.
In the evening we will have a group meal and Thank you celebrations plus the Ceremony of Bhai Thika
Day 17 (17th Nov)
Day 18 (18th) 
Rest day after flight, and a day for shopping
What to expect throughout your trip
Every day will include Guided Meditation practice as well as/or Asana and Pranayama and Sound Baths.
There will be time along the way for Massage and Bowl healing treatments as well as free time for silence and reflection.
Hosts and Guides with years of experience in their field of work.
You will have full support from both Noah and Claire if any assistance is needed during your stay.
Guides and Hosts with extensive knowledge in the local areas visited, food/restaurants, temples, tourist sites, shopping hot spots.
All activities are optional and you will not be judged if you don't attend any or some.
Cost
Adults:
Total cost $4000 per person + Flights and Visa*
Cost includes:
All transport in Kathmandu and Pokhara
Domestic flights in Nepal
All accommodation
All Yoga, Meditation, Sound Baths (not including one on one's)
All entrance fees to Temples and National parks are covered.
Deposit 
A Deposit of $2000 is to be made by May 1st 2020. The remainder due by September 20th 2020
Important Note: Boarding your flight may be refused if your passport has less than six months of validity left. Please ensure your passport is valid for travel before committing to paying your deposit.
Children:
Total cost $3000 per child + Flights and Visas*
Cost include:
All transport and Temple entrance fees.
There is no charge for Trekking, Yoga, Meditation,  (Under 12 years)
All accommodation
All entrance fees to Temples and National parks are covered.
If your child will need help walking on the trek we can help with arrangements for this but it is an extra cost.
Deposit (Children)
A Deposit of $1500 is to be made by May 1st 2020. The remainder due by September 20th 2020
Important Note: Boarding your flight may be refused if your passport has less than six months of validity left. Please ensure your passport is valid for travel before committing to paying your deposit.
Refund Policy
If paid in full, you will be refunded all, minus domestic flights in Nepal, taxes and trekking costs.
What is not included in the cost
International Flights and Visa
Travel & Health Insurance
Food and Drink
Any extra meditation, massage or bowl healings performed by our guides/ hosts will also need to be paid for by arrangement with them directly.
Shopping and any out of schedule activities you may choose to do including Zip Lining, paragliding etc
Any extra treatments or classes in the Spas or Yoga Studios in Kathmandu or Pokhara must be paid for by you.
The Trek and Guides are included but we encourage you to tip our guides and porters at your discretion.
If you wish to make any extra donations to the orphanage that Yogasol has a relationship with we are happy to accept these during our visit also.
Limited to 15 People only. Deposits must be paid to secure your space.
*Prices subject to change without prior notice.