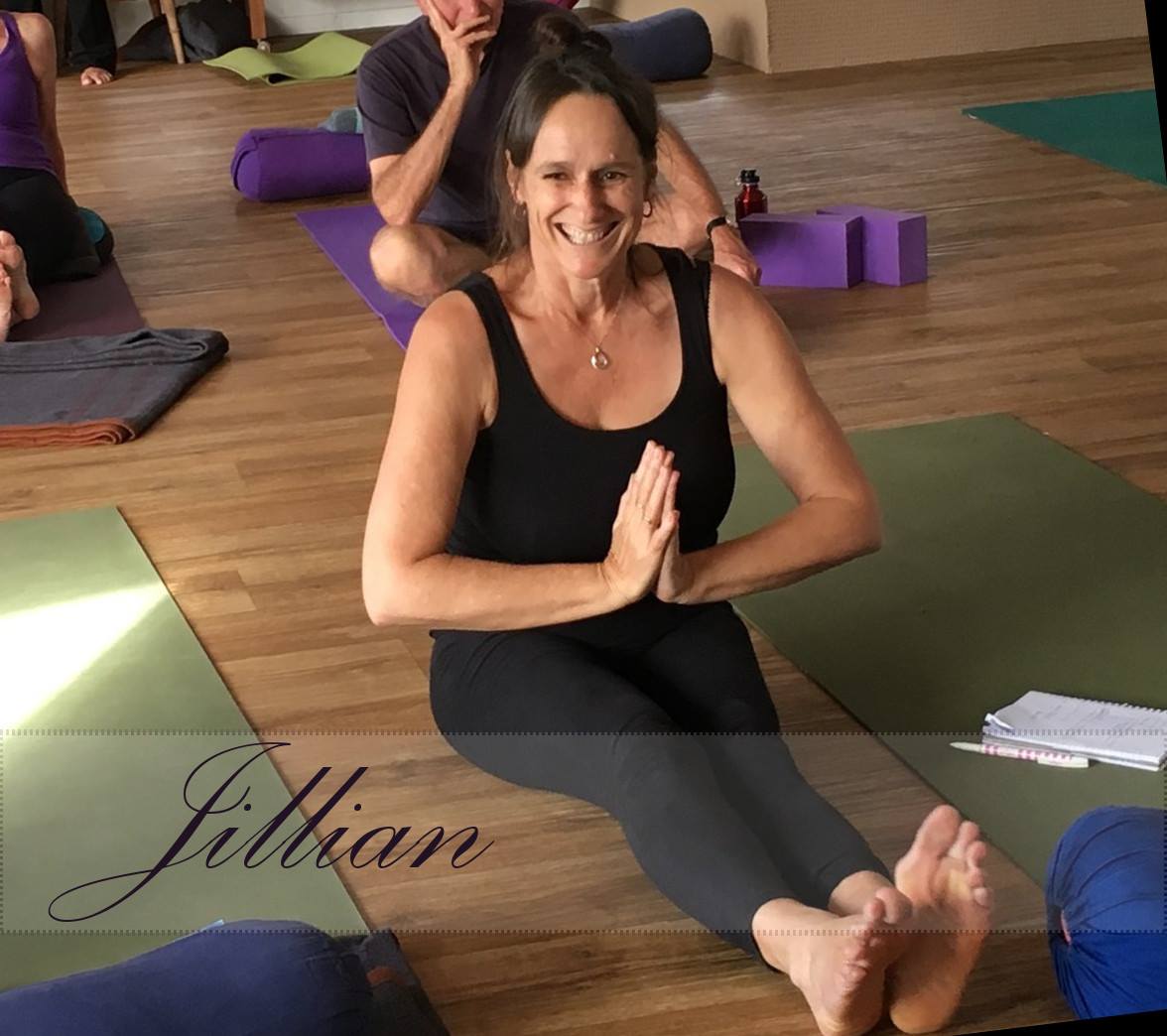 Welcome Jillian.
Jillian is our newest Teacher here at Yoga Sol She has started our new Hatha Class on a Monday Night at 730pm Suitable for Beginners and those more experienced.
Also our healthy aging class on a Friday at 930am. This class is suitable for our more senior members of the community.
I caught up with Jill the other day to ask her some questions about herself and her Yoga Journey.
Here is what she had to say.
What can we expect from a healthy ageing class?
Students In the healthy ageing classes can expect a down-to-earth class where everyone feels comfortable regardless of what their abilities are. We do lots of different poses, just like a regular class, we might use different props to help get into poses and I will always encourage students to give a pose a go even when they think they can't do it, I will never, however, take people beyond their limits.
Often I have senior's coming to class saying they can't get down on the mat , that's ok because I can always give an alternative that will be achievable for them. We will tend to do hip opening poses and a lot of balances. It is often said that we start to lose our balance from the age of 40 years so if we keep working on our balance this then becomes a protective factor against falling as we age.  The healthy ageing classes are non-competitive and help the student to build some physical strength and confidence.
People are always at different points in their yoga journey, have different strengths, different vulnerabilities; but no matter what students present with I will always make sure they feel welcome, relaxed and okay about where they are on that journey.
Do you have to be a certain age to join the Healthy Ageing Class?
I am a firm believer that yoga for healthy ageing can be practiced at any age!Having said that, typically it is people aged in the senior bracket that attendthe Healthy Ageing Class.
I have had people in my classes between the ages of 50 and 80 years, and they all have loved the class!
After coming to classes regularly, most students get surprised that they can now move into a pose despite their age or what they perceived as their limitations. Sometimes our minds can get in the way of us doing things and Yoga is the perfect tool to showthat there are possibilities for movement, reducing pain and feeling at ease.
You have passion for the community; this shows in your teaching style. Can you tell us a bit about your work at Picabeen Community Centre; what you do and what the centre offers?
I do have a passion for my work in the community sector and a passion for creating a sense of community in individuals. I have worked at Picabeen since 2008, I started there as a youth worker and since 2011 I have been managing the small centre in the North West Brisbane area. The centre has a handful of paid staff members and about 30 regular volunteers. The centre offers a range of activities where community members can come along and participate either for free or for a small cost. Activities and classes include art, craft, Tai Chi, conversational English for migrants, literacy and numeracy for adults with learning difficulties, computer literacy classes, scrabble and of course Picabeen offers Yoga.
The services at Picabeen include case management and group work programs for young people aged 12-18 years, we also offer programs such as NILS (no-interest loan scheme for people on low incomes), food hampers for local people who are not making ends meet, information and referral services and a whole lot more. I see lots of different people coming into PIcabeen, many are accessing the activities whilst others are seeking help. In recent times Picabeenhas beens seeing a lot more people presenting as homeless. People are struggling and often the community centre is that safe place they can go to seek help, everyone is welcome at Picabeen and we always try to assist, whether that is through direct support or by referring people onto more specialist services.
Do you feel that Yoga is a great way to bring the community together? How?
Absolutely, Yes!
Yoga has become a more acceptable practice in recent times, I mean, once it just used to be for weirdos or hippies and many of the poses were often seen as being far out of reach for the ordinary person. Nowadays, however, we can adapt classes to literally suit everybody, therefore more people come along. People don't feel awkward as they once may have felt.
With Yoga being more accepted in the community and more and more classes being available, it is providing a common ground, one that is safe, provides structure and where youcan meet like-minded people. These factors bring a sense of connectedness and belonging to the individual which are critical factors in building communities.
The practice of Yoga is something that can improve your physical health and mental well-being. Having this allows people to engage more in the world around them, this generally starts with engaging more with family, then friends and then it often leads to participating more in the community as a whole. Overall, Yoga is perfect for bringing the community together!
How did you discover Yoga?
I discovered Yoga at about the age of 30 (now 50 and some), a work colleague and friend suggested that we go for a Yoga class which we did, I instantly loved Yoga and continued to practice Yoga over the years. Due to life circumstances, in the initial years Yoga practice was somewhat sporadic, however, I never lost my commitment to Yoga and in the past decade I have been practicing Yoga consistently.
What made you decide to become a teacher?
I have gained so many benefits from practicing Yoga, it has helped me through very difficult times in my life, where I have been surrounded by chaos; Yoga has brought calm into my life; sometimes that calm was only a glimpse of what could be but it was that glimpse, the glimmer of light that keptme coming back for more and more.
Throughout my life, I have had a natural proclivity toward helping people and I think it is this tendency that made me want to share my positive experience of Yoga with others. I see Yoga as a self-help tool and if, through teaching Yoga, I can steer people in the direction of Yoga, guide them through poses,bring some movement to the body, stillness to the mind, healing on a physical and mental level, this is the best help that I can give. Empowering people brings me a lot of joy andI love Yoga so much that it seems like a natural progression to become a teacher.
Once I commenced the teacher training, I also realised that Iwas soaking up the other aspects of Yoga besides the physical asanawhich had been my main experience.
Through my Yoga teacher training I was exposed to another level of Yoga, exploring the history, philosophy, breath practices, anatomy, the subtle energy systems and much more. I have delved deeper into Yoga, and as each day goes by I have an increasing thirst for Yoga and everything it has to offer. So whilst am I teacher, I know that I am still, and will always continue to be, a student of this ancient and wondrous practice.
Any advice for our more senior members of the community about starting Yoga?
Come to class! Don't worry if you can't get down on the mat, don't worry if you have a bung shoulder, wrecked wrists or wonky knees. Don't worry if you have never done Yoga before. Come along, keep your body moving and share in this thing called Yoga.
I feel very confident that you will feel better for it!