108 hr Level 2 Yoga Teacher Training
Nepal 2021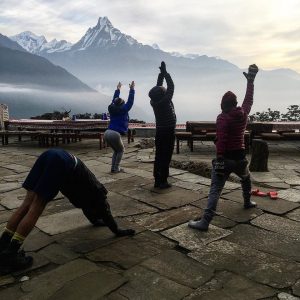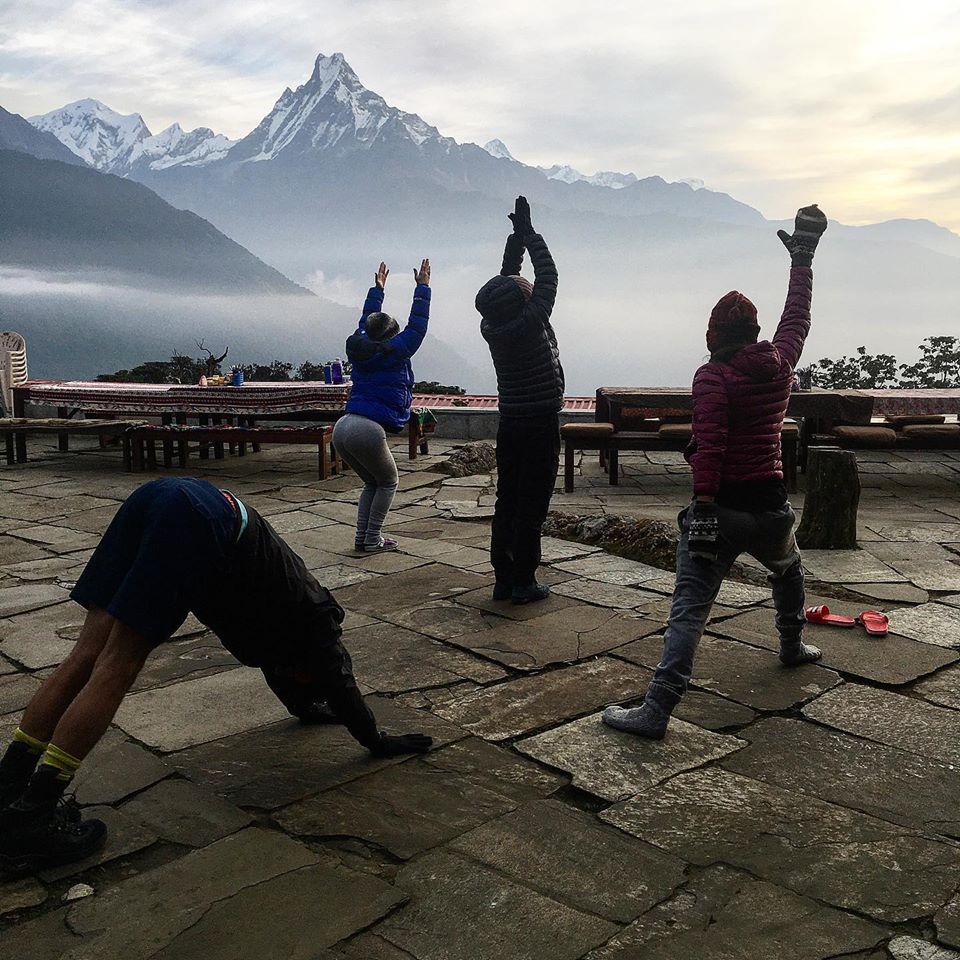 We are currently taking expressions of interest from Yoga Teachers looking to expand their training and undertake their Level 2 Teacher Training.
Training will take place in Nepal 2021 providing there are enough participants.
Proposed Dates
August 30th 2021 – October 25th
108 hrs  = 8 weeks plus Optional Trek to start 1st Nov
Prerequisites for attending level 2 yoga teacher training:
200hrs Yoga Teacher Training
50 hours Anatomy and Physiology
Content Covered
Vinyasa / Flow
Artistic Sequencing and Safe Transitions
In Depth use of Props
Advance Poses
Neuroplasticity & Meditation
Adjustments & Alignments
Common Pathologies
Embodying Your Authentic Self
Yoga Philosophy
Sound Healing with Nepali Singing Bowls
Please contact Claire if you would like to join us on a journey of a lifetime or you want more information.
yogaandmassage@gmail.com
(07) 3851 0860 / 0406 692 891
We will stay in Kathmandu for the duration of our learning experience.
---
Thamel has shops galore. A place where worship and Yoga blend into a kaleidoscope of colour. The air heavy with Incense from prayer and devotion. In your spare time You may choose to get a massage, a tattoo, some art, enjoy a dance, eat your heart out, or just enjoy a wine in the garden of dreams.
---
All Yoga Philosophy classes will include visiting one of the 8 world heritage sites within Nepal including
Pashupatinath (Shiva Temple) where we see the circle of life through conception of the Karma Sutra on the walls, take photos with Sadhus and watch the dead be washed smoked and wrapped then placed on the pyre. The full spectrum of the Human condition. We will experience Aarti in the evening and experience first hand the philosophies and rituals that we are learning about in a daily routine that encompasses life in all its aspects effortlessly in a continual flow. Without censorship or denial.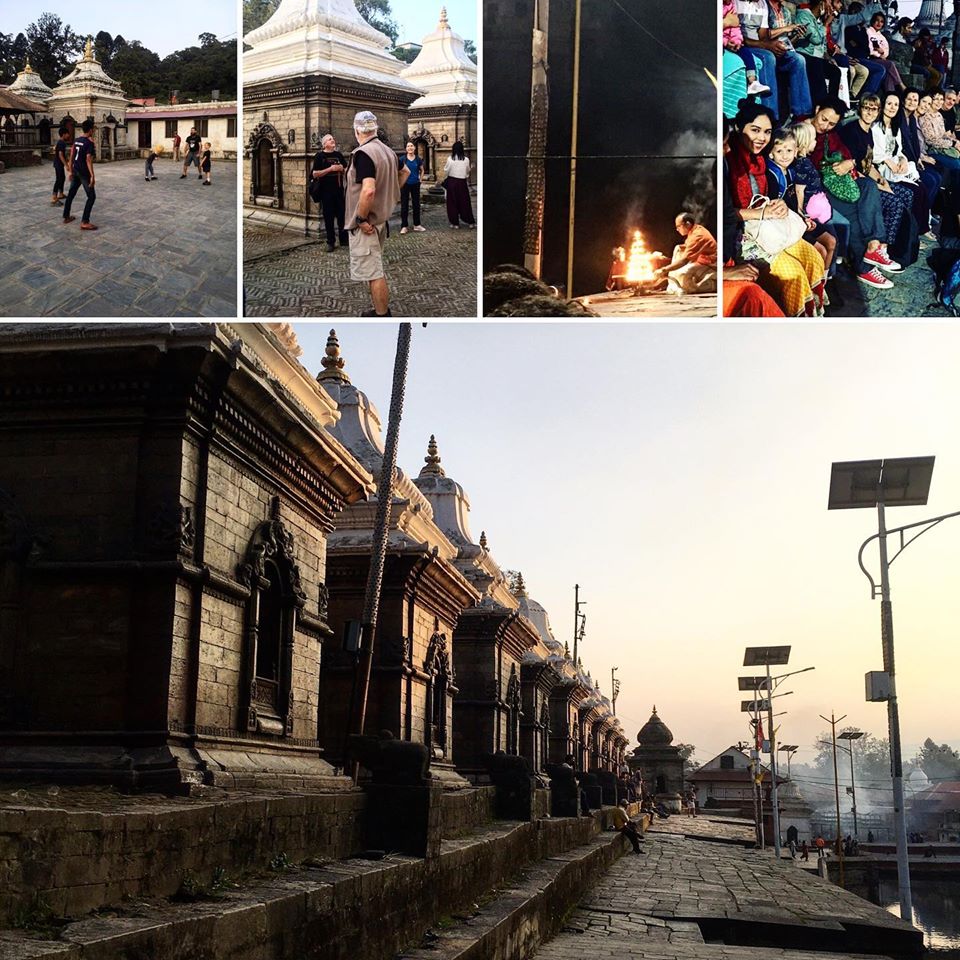 Boudanath Stupa, which is the largest Buddhist Stupa in the world. Here we will practice the Buddhist Meditations of Equanimity, Love and Kindness,  and Compassion Training. We will learn about how the East and West blend in a perfect union when it comes to Neuroplasticity, Neuroscience, Meditation and Mindfulness based practices.   We can look into the differences and similarities within Buddhist, Tantric based practices and our modern day Yoga life, learning, and how we communicate these wisdom's to our western world.


---

---

Sound Healing and The understanding of Vibration as medicine comes from this magical and spiritual land. We will learn how the Nepali singing bowls work, The techniques on both healing modalities and sound bathing skills.


---

---

Practical lessons in Asana, Alignment,  Use of Props (From Iyengar's Teachings) Sequencing, and understanding common pathologies will be held within our studio. Each day will be 6 hours of learning in the subject of that day. We will learn the equivalent of 5 days a week. We may cluster our days off together so this gives more opportunity for exploring the surrounding areas like Chitwan, Bhaktapur,  Nagakot or Pokhara giving you space and time away from the city to let your teachings settle and take in the beauty of the country.  After our 8 weeks (which incredibly amounts to exactly 108 hours)   You will have the option to join in our annual Yogasol Trek and Retreat. Please view the Diwali itinerary for details. You will be joining from day 1 in Pokhara and remaining until the end of the Trek. There will be separate costing for any Level 2 Students who wish to join the Trek.


---

About your Teacher Claire Tierney

---

Yoga Australia Senior Level Teacher
Yoga Sol Owner/Director

---

Claire's Journey with Yoga started with her teenage rebellion. Coming from a family of Methodists she needed more freedom from her spiritual lessons, craved more colour and celebration in worship. After talking to a Hare Krishna in the street in her rural village at the age of 13 she caught a train to London to find  the Hare Krishna Temple, where she found all the colour and celebration that was missing from her stone church. Reading the Bhagavad-Gita in secret for years not realising this was the start of a life long Journey into Yoga.
She started to practice Yoga Asana at the age of 19. Not in the temples or in a spiritual sense but just at the local gym. Loving the way in which Yoga helped with her first love of Martial Arts. Helping to prevent Injury and creating a balance in training and reducing the strain on the body.
It was a few short years after discovering Yoga Asana that Claire, wanting to add to her skills as a Remedial Massage Therapist, trained with the British Wheel of Yoga to become a Hatha Yoga Teacher. The ability to help people's pain with both manual therapy and physical movement is still Claire's passion today.
She moved to India and Nepal in 2003 to further her studies in Yoga,  Where she came full circle back to the Gita and the Hindu philosophies of the spiritual journey she took at such a young age. She then came to Australia in 2006 and started her own small studio under her house in Bardon.
In 2016 Claire opened Yoga Sol, Where she met Jillian and the Yoga Sol Teacher Training was born.
"I love to teach people that crave the deeper knowledge and understanding of the body and of Yoga. This is where true transformation happens."

---

Costs of this course will include

Course content and instruction.
Transfers to and from temples during study hours.
Transfers to and from the Airport in Kathmandu.
Temple visits fees for study days
Any Asana classes or sound healing sessions performed by your teachers
Certification and graduation Dinner.
Group T shirt.


---

Course cost does not include

Flights/Visas
Travel within Nepal
Accommodation, Food/Drink
Extra yoga classes/ Singing bowl session or further education.

---

Full breakdown of costings will be sent to you when expressing interest.

---